Sport
At River Beach, we offer children a minimum of two hours of sport per week in every class with children having access to a range of exciting equipment and extensive facilities inside and outdoors.
In addition to PE sessions, we have competitions, visits and experiences for many of our pupils to take part in. These include; cross country races, inter house competitions in different sports such as golf and gymnastics and visits from coaches and even professional athletes.
Our annual summer sports day is an exciting event where the children can work in their house teams. It really is a highlight to our sporting calendar and another chance for all of our pupils to demonstrate their sporting abilities in a competitive and fun event.
Before and after school, we provide almost 1500 spaces across the school year for our children to take part in active clubs. These range from clubs run by coaches such as golf, football, karate and zumba to teacher led clubs in dance, gymnastics and football. We even run a 'change4life' club which inspires children to not only be active but have a healthy diet as well. Whether you are into motorsports or racket sports our club timetable is bound to provide something you are interested in.
Within the local area, we compete against other schools as part of the Littlehampton Area Sports Partnership (LASP) and the wider Southern Area School Games partnership. We pride ourselves on our sports teams' reputation for competitiveness, fair play and sportsmanship; which are values we hold in high regard and aim to promote at River Beach. Also our links with TLA and Angmering enable us to make use of their resources and support our children with transition to secondary school.
Don't just take our word for how fantastic we are at sport in the previous years we have competed at the regional finals in cross country and our boys and girls football teams are current locality champions. In addition, due to our commitment to sport we have been awarded Platinum Plus in KS1 Quality Start Award and Gold in Your School Games award.
Finally, we believe children should be able to experience sport in a range of settings and in Year 4 and Year 6 our children have the opportunity to try a vast range of activities on residential trips.
For more information on the Littlehampton Area Sports Partnership including event details and results visit https://sites.google.com/view/laspinspires/home
We have also published our Sport Premium for your information.
We actively encourage parents to come and support the children in all of our varied sports events. However, in order to show your support responsibly and respectfully, please read our Code of Conduct for parents and spectators here.
Championing Sport at River Beach 2018 - 19
As well as celebrating our young sporting stars in lessons, competitions and events we like to have a termly review of successes which could be a podium finishing place, trying a new sport or meeting an expert. What is sure is that our sporting calendar is diverse, inclusive and brings out the best in our future sporting stars.
Autumn Term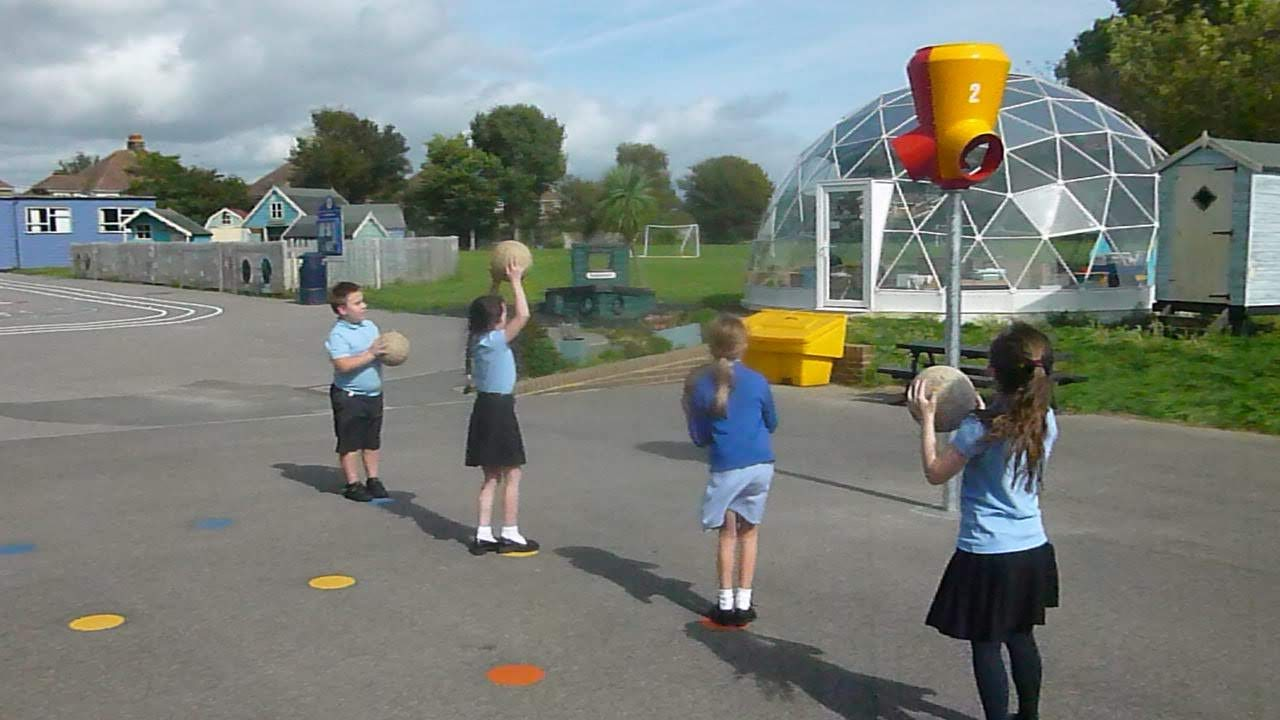 The new term began with the children having access to new and upgraded playground equipment and markings. Training was given to staff and the children now have access to four new football goals, two basketball goals, a running track, an activity trail, goal shooter, target markings and two netball court markings.
Lots of our children took part in a Guinness World Record attempt for most people completing in the activity of Speed Stacking around the world. The numbers are still coming in but the World Record has been broken so it's official - we're record breakers! Follow this link to see the total so far: https://www.thewssa.com/stackup/2018/
Our annual cross country event was expertly marshalled by our Key Stage One children and this event enjoyed by all Key Stage Two children. During the event our Year 3 and 4 complete a 1km course and Year 5 and 6 complete a 1.5km course. The top five boy and girl runners in each year group then go on to compete at a local competition at TLA. Due to the training given to our sporting stars they went on further to compete at the next county level at Windlesham House.
Another highlight from Autumn term was when two professional athletes, Chey Kemp and Souleyman Bah, visited us to tell about how they became professional athletes. All children were able to complete workshops with these athletes and find more about paralympic sports.
First place footballers! Well done to our Year 5 and Year 6 Football teams who did us proud at the local area tournament. The Year 5 team (plus their player-manager Abbey) finished 5th and produced some excellent performances. The Year 6 Team played excellently and finished 1st with the greatest points total. They are now through to the school regional finals.
Spring Term
We have now been invited to perform at Dance House in Bognor Regis for the last five years. This is a great opportunity to perform in a professional theatre to a sold out audience. The dance team produced their own piece, costumes and hair and make up. This year our inspiration for the piece was female suffrage and was a real hit with the organisers and the audience.
A new term and another visit from the experts. This time is was a fencing experience for our Year 3 and 5 children. They were able to compete in small matches, learning the language of the sport and then could join a fencing club at the school. In Year 3, the children were so inspired they produce their own guides to teaching you how to fence.
The children regularly enjoy our golf challenges. We have many opportunities for golf at the school and this is a great game for individuals and teams. Some of the children even went on to compete at local competitions and attend a club run by a PGA qualified coach!
Our Year Five and Six hockey players had a great time at TLA playing against a variety of teams. Overall our A team finished 8th and B team 10th. It was clear to see that the children grew in confidence and ability throughout the tournament.
A huge well down to the players who took part in the Sport without Boundaries event at TLA. The children played football matches and learnt new skills. We are very proud of all our players but especially Bailey who was awarded sports star of the event medal for showing respect throughout the event.
Well done to the year 1 and 2 gymnastic teams who came 5th, 6th and 8th. The teams worked very hard to learn their own routine which was scored. They all had lots of fun and performed really well.
Summer Term
Well done to all our children who took part in sports days over the past few weeks and thank you to the staff who set it up and the fans who came to watch. The results for the House competition are in and can be seen below. Great job Team Endurance!